News
Maggie Tansley (Ex Regional Chair)
The members of the Yorkshire and Cleveland Region were saddened to hear about the death of Maggie Tansley, our Regional Chair after a short battle with cancer. During her illness, Maggie kept us up to date with her thoughts and feelings about her battle with the cancer via regular postings on her facebook page. She called them her musings, a nod to her column Maggie's Musings in our Regional Newsletter. Many of us attended her funeral in May, where it came as no surprise to find that she had planned the service herself. It was a moving service with both her colleagues and family sharing their memories of Maggie. What came across in all of these was her passion for the outdoors, her horses and the RDA.
The last words should belong to Maggie and in her last Musings for the Newsletter she wrote:-
"As you know, Roger and I ran the Maidendale Stud of pure and crossbred Dales Ponies until we retired from breeding a few years ago. A lot of our horses and ponies have gone on to do well in many spheres, including showing, endurance, hunting and eventing, but I'm very proud of the fact that two of them have made careers in RDA. We can do nothing without our horses and ponies, they are true champions!
Yorkshire and Cleveland is a large region with 22 Groups, every one completely different to the others, but all working towards the same goals. I've been struck by how you co-operate with each other, are so open to offer help and support and to exchange ideas and best practice, despite these differences. I've loved visiting individual Groups, meeting the participants and have picked up some great tips and lesson ideas. Our conferences and training days have been inspirational, I've particularly enjoyed joining in the discussions and the sense of us sharing as a Region.
I'd like to think that my biggest achievements are:
Establishing the Regional grant rounds to assist both Group development and individual participants.
Building a relationship with Ride-away, the equestrian store to become their named charity. The store now holds regular events to raise funds and gift goods to the Region. Many thanks are due to the North Yorks Chairman, Cass O'Brien who is there at all of the events to represent us.
Making the stall at Bramham available for individual Groups to do their own fundraising
It has been both a pleasure and a privilege to work with you all and to help with the amazing work you are doing."
The Region has now got a new Chair in post, Mr John Chuter. The committee are looking forward to working with him.
The Big Ride - Part 1
It was during Princess Anne's visit to Bedale RDA Group at Catterick, that a plan was made to enable some RDA local riders and supporters to join in the Big Ride RDA UK Fundraising Challenge for RDA's National Training Centre. So on a sunny Sunday in May two quite different RDA riders set off round Endurance GB's Brough Park Ride accompanied by RDA Chairman Sam Orde and supporters. Nicole Pink ride organiser put on a ride with quite varied terrain including open fields, twisty paths through woods and quiet lanes.
Claire Pope became an RDA rider having lost an arm in a traffic accident is also an active RDA coach. Claire brought her own horse to fly round the 15 km course, leading our group of 4 riders, Sam, Anne, Georgina and Claire at a canter up the first hill.
Esther Spencer rides with the Bedale RDA Group having suffered a head injury. Esther was delighted to complete 5.5 miles led by RDA coach Sarah Ruddock. With a big smile but very tired legs, Esther said that her horse was star (he was kindly loaned by Lucie Hawkes).
The Big Ride Challenge will be returning to this large region later in the year at their request to enable the RDA Groups in West Yorkshire to join together to enjoy riding out in the countryside while supporting our National Training Centre project.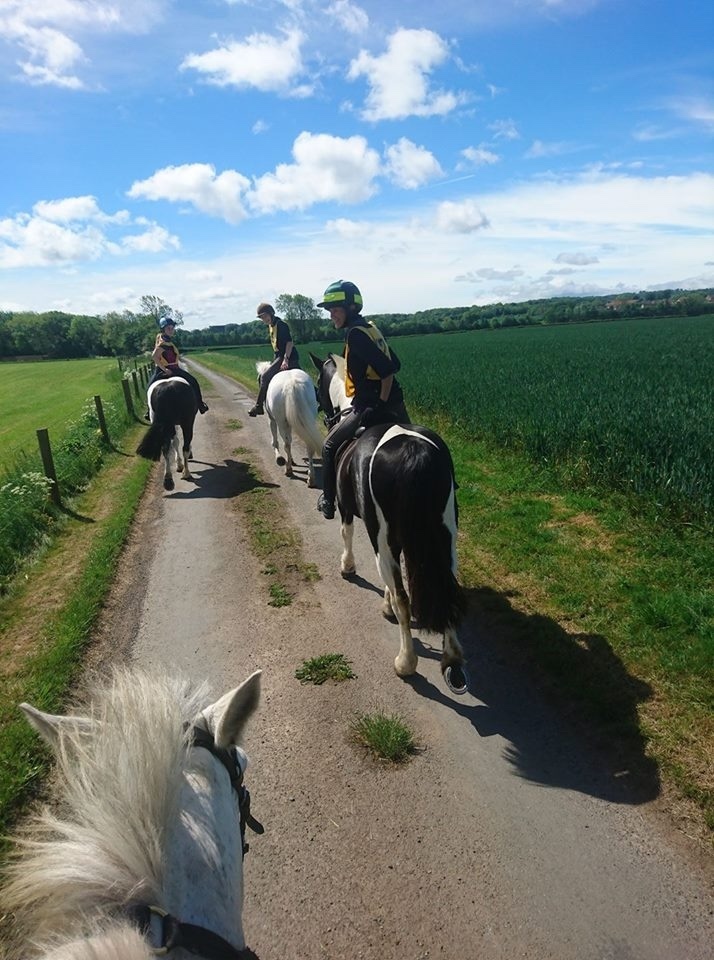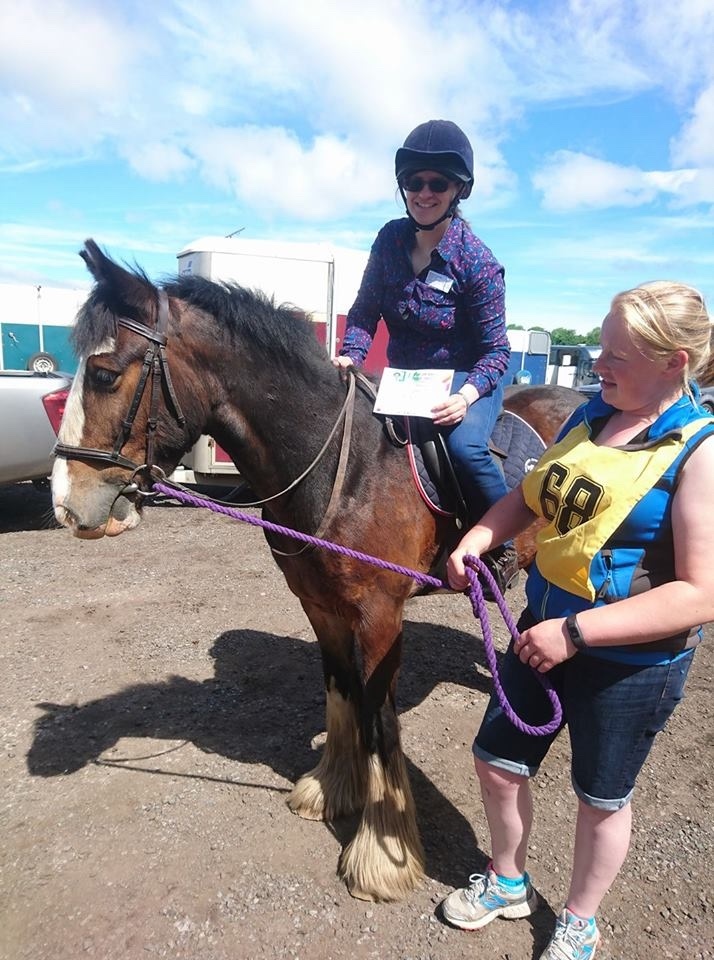 | | |
| --- | --- |
| Big Ride RDA UK events so far | 3 |
| RDA riders | 12 |
| volunteers & supporters riding | 14 |
| volunteers walking | 18 |
| Big Ride Total km on ponies | 219 km |
| Distance by volunteers on foot | 69 km |
| Big Ride events to go | 17 |
For more information follow the link below.