News
Another fantastic success to share and proving how great RDA ponies can be. Congratulations to Claire Robinson and the Stokesley group on this fantastic win.
Great win for Theodora Hopkins and Claire Robinson's, Hunky Dory at the Horse of the Year Show in the SEIB Search for a Star Working Pony final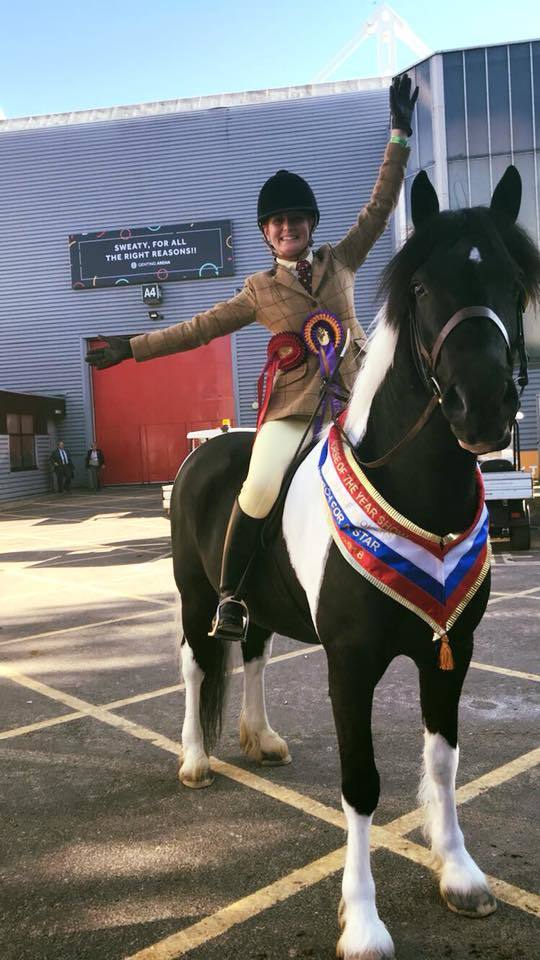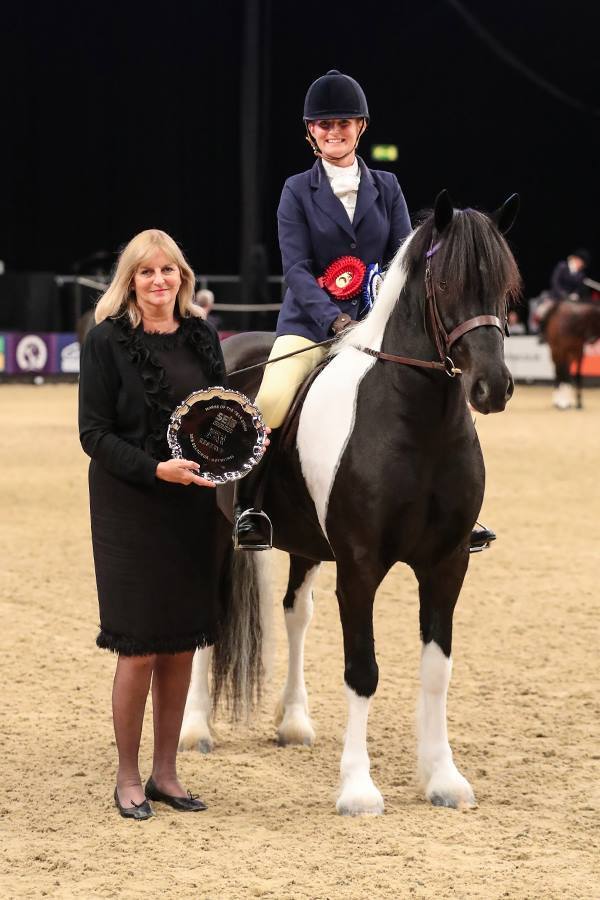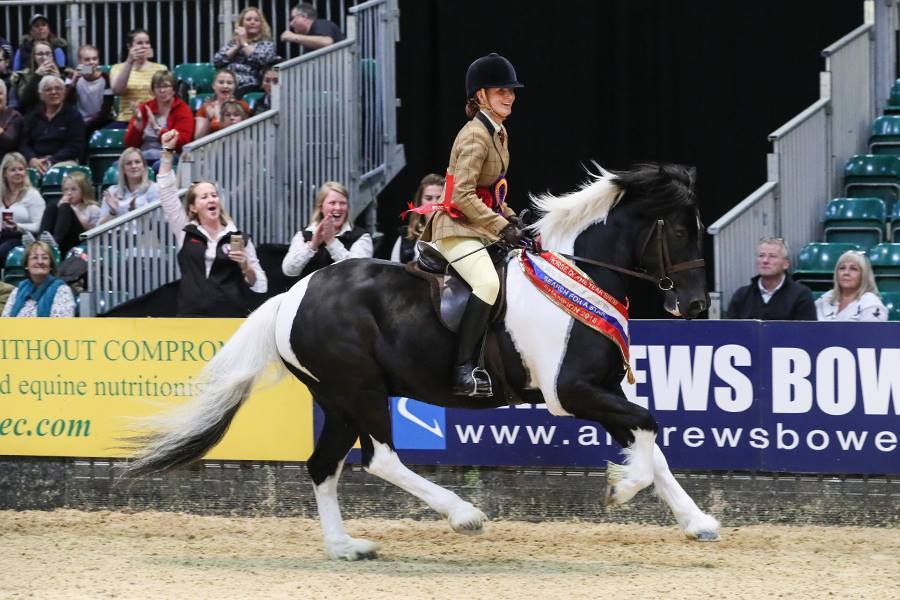 9 year old Charlotte is RDA 'Rider of the Year'
Clare Balding presents award to 'determined' Charlotte at charity fundraiser
Charlotte Seth, a 9-year old rider at Haworth Riding for the Disabled group in Yorkshire has been named 'Rider of the Year' at RDA's annual awards night. Hosted by broadcaster and author Clare Balding, the evening also featured appearances from journalist and newscaster Alastair Stewart, Paralympian Natasha Baker and celebrity auctioneer Philip Serrell.
Rider of the Year Charlotte has Joberts Syndrome . This leaves her with balance and coordination problems, poor fine and gross motor skills and proprioception issues. She started riding with RDA when she was four. At the time, she needed a team of three volunteers around her as poor core strength meant that she was unable to sit upright on the pony.
"Riding is therapy without Charlotte realising the therapy is actually happening," said Haworth Group Coach Jane Lawrence. "
Through Charlotte's determination, her RDA group have witnessed amazing progress in all areas of Charlotte's development. Her core strength has improved to the extent that she now, with support, walks up the mounting block steps, supports herself on the pony and sits upright. She smiles throughout her whole lesson, even when she finds a session tiring.
"She is so much more in control of where she wants to go and what she wants to do," says Jane. "I'm so proud of her – I think she's amazing."
When asked what she wants to do when she grows up Charlotte replied, "I want to be able to do anything. I want to tell everyone they can do anything."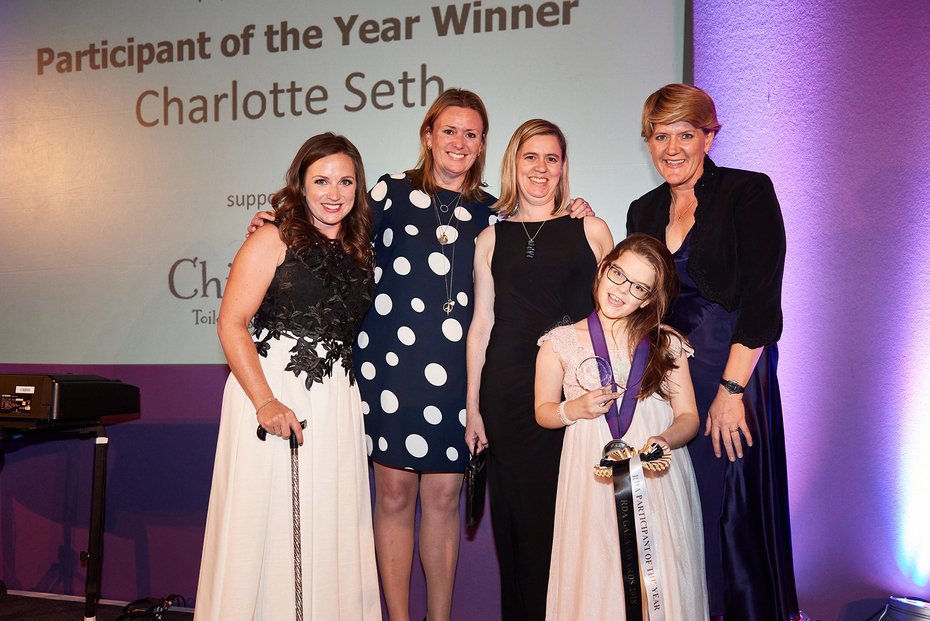 Sharon Maiden
Safeguarding Training Lead
Yorkshire & Cleveland Region RDA
Sharon Maiden has just been appointed Safeguarding Training Lead for the region. She recently retired as a highly successful and well respected primary headteacher. During her time as an educational professional Sharon had experience across all key stages and in her role as Safeguarding Lead she delivered training in a variety of educational settings for all staff, parents/carers and governors. In addition she has been a Special Educational Needs Coordinator and a Health & Safety Coordinator. Currently Sharon has responsibility for both these roles as a Trustee at Ackworth Group RDA.
Sharon is clear that Safeguarding is far more than the protection of vulnerable children and adults, but also extends to the provision of safe, secure and welcoming environments for all who participate or come into contact with RDA activities. Sharon is therefore more than qualified for this important role and I commend her to you.
Sharon will be available for advice on all Safeguarding matters and will also be running Safeguarding Workshops within the Region as demand dictates.
Sharon can be contacted on: 07708690826 or 01977 619706
or e-mail: shazmaiden@gmail.com Please pass this on to your safeguarding officers.
Sept 2018
Riding Holidays 2018
This summer we have organised 4 residential holidays which have all stayed at the Beamsley Project near Bolton Abbey. It is a converted chapel open for holidays to all people who have a disability.. you have to do your own catering which enriched the holidays as so many riders helped with all meal preparation. We ran a holiday specially for those wanting to work at Proficiency Grades.. Anne Everall and Elaine Tullett were the coaches and the end result was 7 riders achieved Grade 3 riding, 2 passed grade .4,1 gained Bronze and 3 their Silver riding. Of the 13 riders , 6 were registered blind and 1 partially sighted. The age range was from 8 to mid forties and all got on like a big family. We did a variety of horse related activity in the afternoons. In the evenings we sang, danced, chatted and listened to past rider, Anna Prosser, telling us about her work supporting disabled children who live on the railway lines in Calcutta, India.
Parallel with this holiday we ran a Show Jumping holiday, coached by our region Show Jumping coaches and an Otley coach, Bob Middleton. The 4 riders had an excellent time and all achieved level 2 Show Jumping, riding at Draughton Riding Centre.
In September Anne Everall coached 4 riders in Side Saddle riding. One lady had been on this holiday before but 3 were new and all made amazing progress with Anne's expert help. There was a fifth rider who had advanced MS and started the week with 2 side walkers. She finished riding only with a leader and managing a morning and afternoon ride which was a fantastic result which Anne rewarded with a special rosette.
At the same time we had 8 riders doing a general riding holiday which involved riders with a wide range of ability. Weather permitted some riding out in the beautiful country at Draughton and we practised natural horsemanship, washing and grooming ponies, a lead showing competition and generally tried to do things there is not time to do during normal sessions. We also did a day of showjumping with Claire Pope where the riders achieved their Grade 1 levels, much to their surprise! These 2 concurrent holidays started the day with an hour's exercise which was led by an Ilkley ballet teacher who has studied which muscles we use in riding, so we all became much fitter, despite our aches !
All the holidays were full of fun , achievement and friendships formed and I am grateful to all the coaches and volunteers who worked so hard to make them such a success for all our riders. They were very much a team effort.
Judy Olby
Sept 2018
New and important information from National Office.
Participant and Volunteer Application Forms