Unicorn Centre
The Unicorn Centre is celebrating a unique achievement: becoming the first riding establishment and RDA Centre in the country to become officially 'Working to become Dementia Friendly'.
Following the National Dementia Strategy first set up by the Government, towns and communities have been encouraged to train to be Dementia Friendly to support over 850 thousand people currently thought to be living with dementia in the UK.
Local Dementia Friendly Champion Lesley Tart provided awareness training accredited by the Alzeheimers Society for Unicorn Centre staff and Trustees. She explained at the training sessions that over 1 in 14 people over 65 years old will develop the disease and that meaningful activity can be particularly helpful. She suggested strategies staff could use at the Centre to enable it to become more dementia friendly.
The Centre was presented with its accreditation certificate by Brian Rowcroft, Project Lead Dementia Friendly Middlesbrough, Redcar and Cleveland.
Centre Manager Claire Pitt added, "We're very proud to receive this award, but it is the start of our journey as we continue to work at being a Dementia Friendly charity and encouraging other RDA groups to follow our example. The Dementia Friendly training has been inspirational and thought-provoking, so it will be rolled out to all our volunteers and supporters. And in the spring we'll be offering Dementia Friendly 'taster sessions' of riding and tactile grooming sessions for persons with dementia.
Photos: Brian Rowcroft, Project Lead Demential Friendly Middlesbrough, Redcar and Cleveland presents the Accreditation Certificate to Unicorn Centre staff Becky Cole (l) and Katie Addison (r) watched by Fred the horse. Unicorn Centre Staff and Trustees with local Demential Friendly Champion Lesley Tart.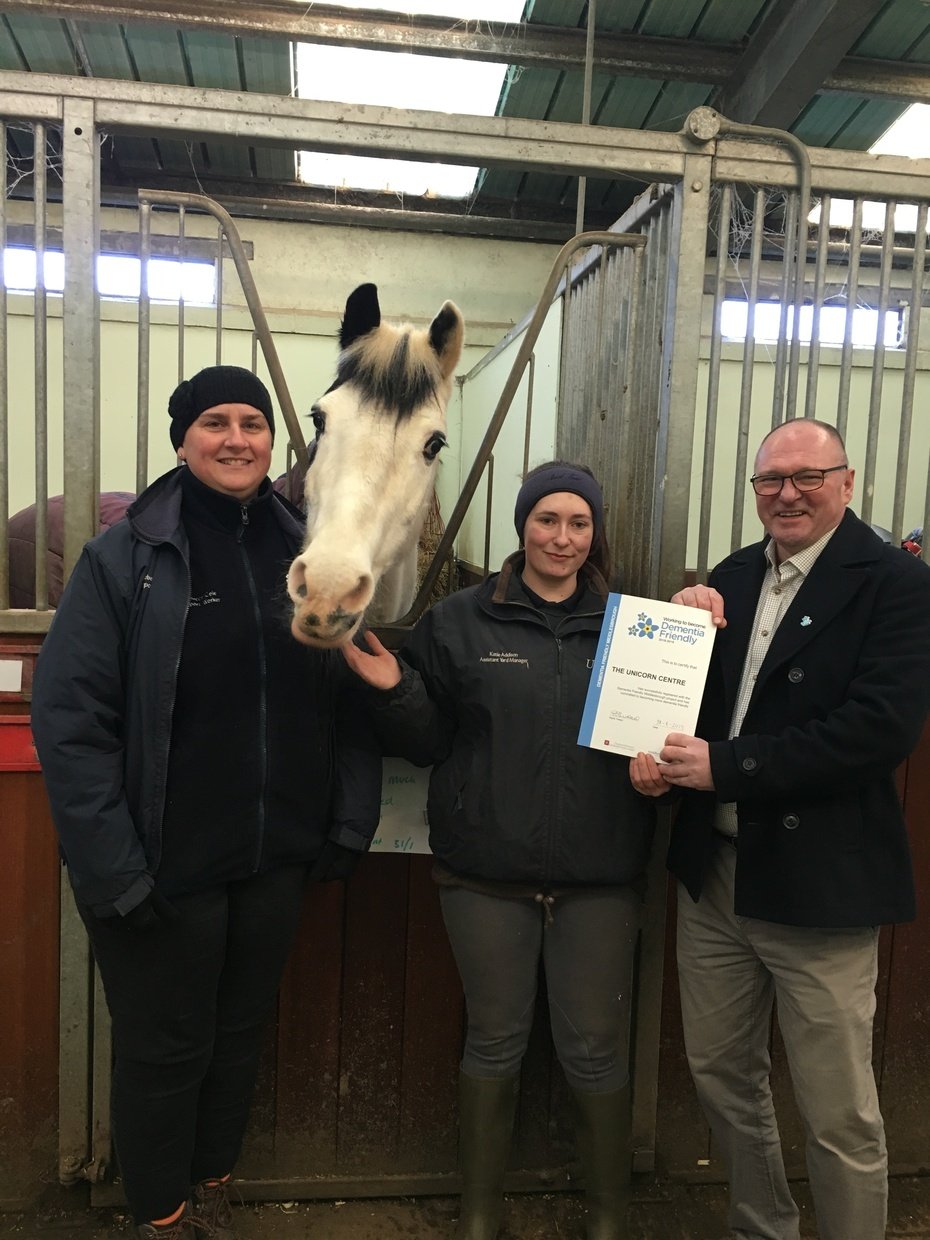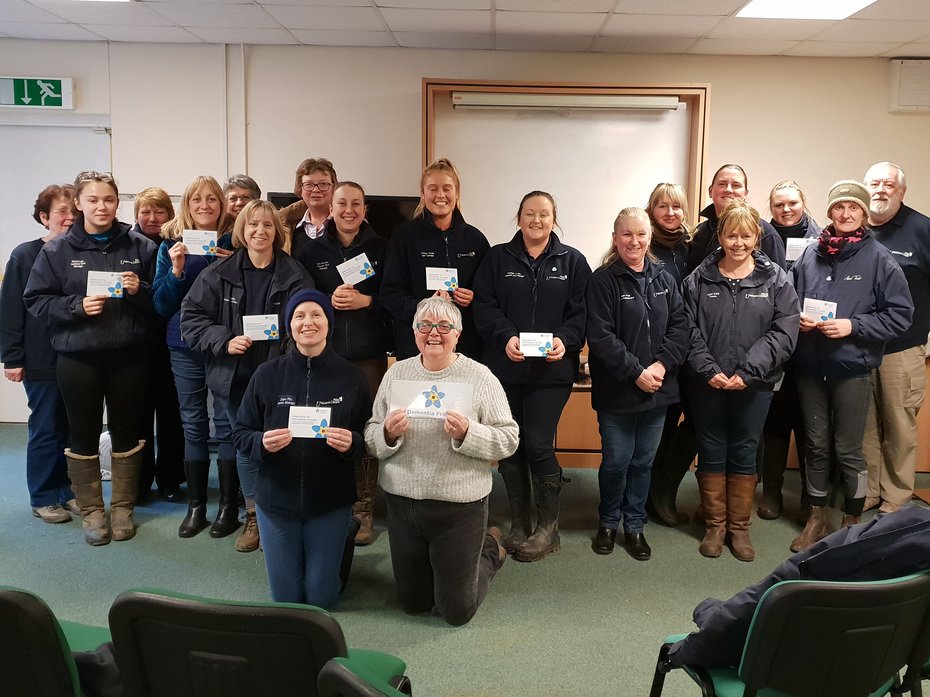 February 2019
CELEBRATION OF ACHIEVEMENT AT DISABLED RIDING CENTRE
An evening of exciting riding displays and an Adopt a Pony party closed 2018 at the Riding for the Disabled Association's Unicorn Centre as it celebrated the achievements of all its participants.
Riders, diploma learners, Supported Volunteers and the Centre's own Pony Club gave polished Christmas-themed musical riding displays in front of an enthralled audience of families and friends and proud staff members.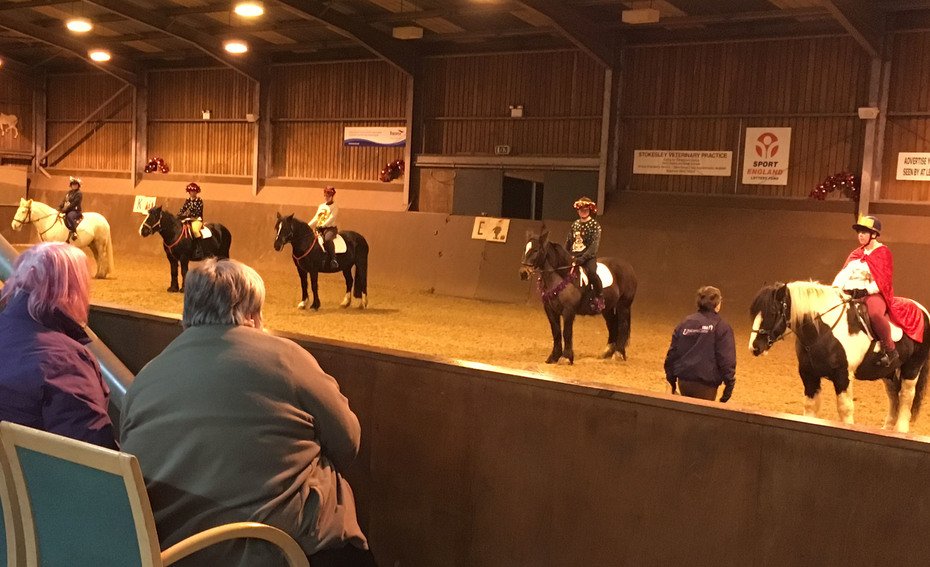 And two special awards were handed out too.
Nine year old RDA rider Charlotte Daniels started riding in 2014 and was chosen for the Maggie Tansley Memorial Trophy for the massive improvement she has shown in her riding this last year. Unicorn Centre supporter Ann Blowman commissioned this perpetual trophy in memory of past Chairman and Trustee Maggie Tansley who sadly and unexpectedly passed away in 2017.
Ann said, "Congratulations to Charlotte for winning Maggie's trophy; it was a pleasure to present her the trophy in Maggie's memory. Maggie would have wholeheartedly agreed that Charlotte's great improvement in her riding made her a worthy winner."
Centre Manager Claire Pitt, who presented the award with Ann said, "Staff at the Centre unanimously agreed that Charlotte had made huge progress with her riding this year. When she started riding she couldn't ride without support, but her balance and core strength have improved so much that she can now fully control her pony and needs very little assistance in her lessons."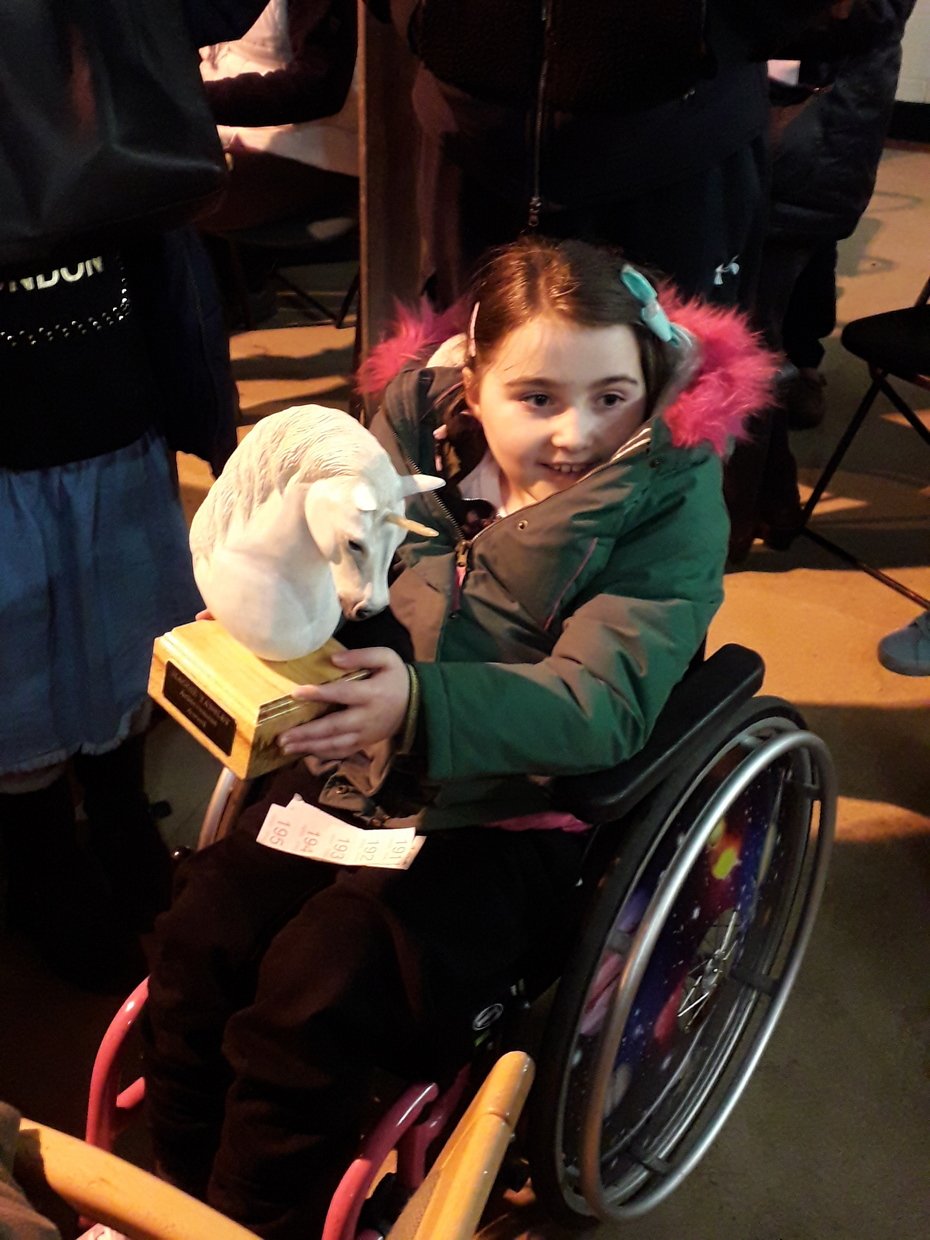 Tamina Ahmed (27 yrs) joined the Unicorn Centre's award winning Supported Volunteer Programme in January 2016 and attends three days a week. She has recently successfully completed the ASDAN Towards Independence Programme in Animal Care with Horse Riding and Stable Management.
Presenting the Certificate to Tamina, Claire Pitt said, "Tamina has set the bar high among our Supported Volunteers and demonstrates what can be achieved with the right amount of determination and support. We're so proud of her, and particularly of our Volunteer Support Assistants who have given her the confidence and skills to complete this Programme.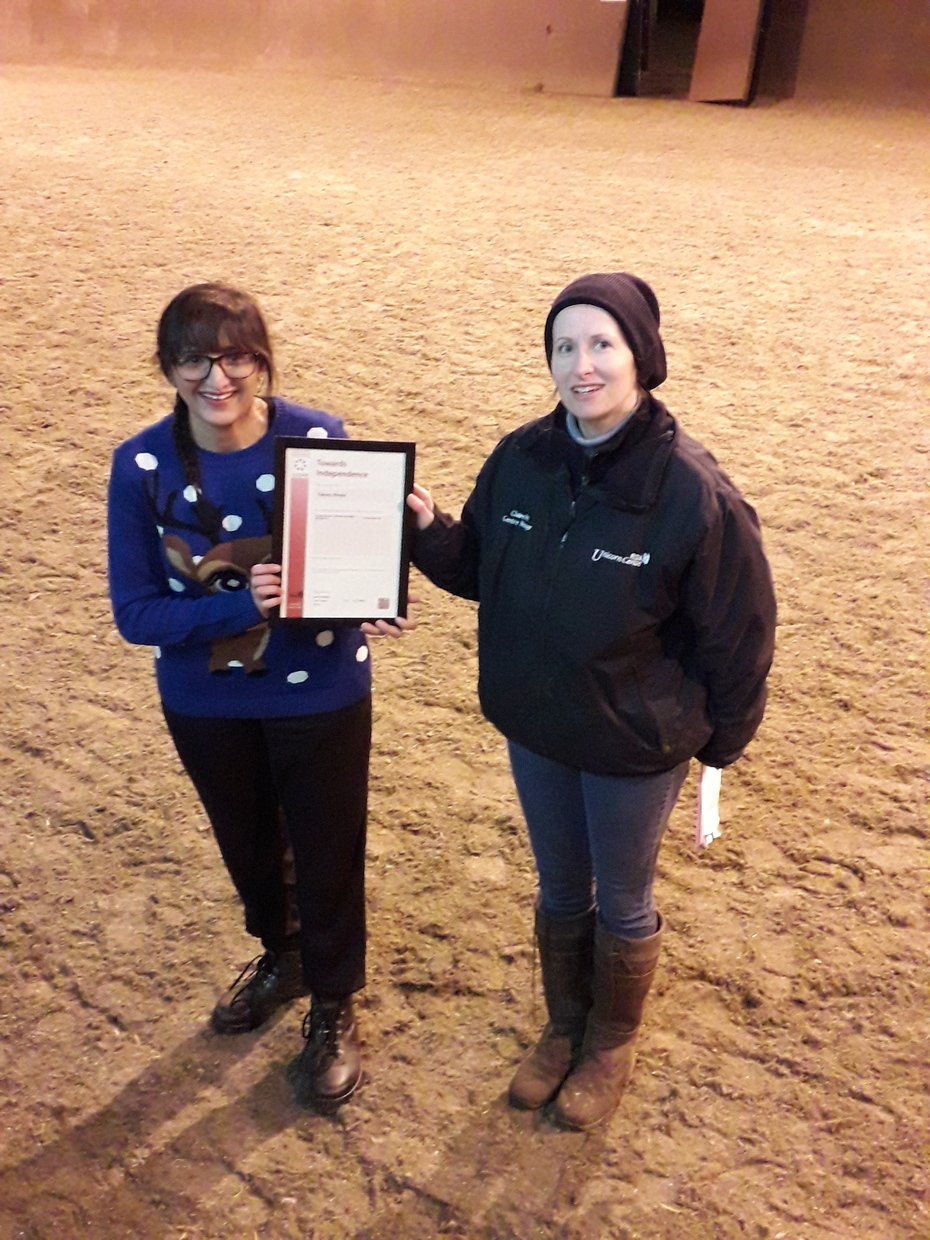 Jan 2019
MAGGIE'S MOUNTING RAMP
The Unicorn Centre has been operating for 21 years and we have state-of-the-art facilities, a team of professional, caring staff and a fantastic group of 100 volunteers who have created an amazing Centre.
To enhance our inclusivity ethos, our Chairman Maggie Tansley and the Trustees decided in 2017 to raise £5000 towards a mounting ramp for our outside arena.
Unexpectedly and very sadly, Maggie passed away in the spring of that year and her family requested donations from her funeral made towards her pet project.
Maggie was passionate about horses and their powerful connection with disabled people, volunteering at the Unicorn Centre for many years as an enthusiastic and inspiring coach. She was also very active in RDA nationally as well as being Yorkshire and Cleveland Region Chairman, tirelessly supporting and advising local RDA groups.
Funding from Screwfix, Middlesbrough Golf Club, Teesside Flower Club and Aviva, and proceeds from Maggie's funeral enabled construction of the wooden ramp to be completed by Autumn 2018. A celebratory official opening of "Maggie's Mounting Ramp" is planned for this Spring.
The new ramp enables simultaneous delivery of lessons in both arenas consequently reducing our waiting list for riding lessons. And on competition days, participants now have independence of choice and more privacy as they're able to mount outdoors and use the outdoor arena as a warming up/collecting ring.
We think Maggie would be very pleased with "her" ramp